Agent THK Linear Bearing untuk cakupan wilayah di Indonesia khususnya untuk daerah Jakarta dan sekitarnya, silahkan menghubungi PT. Gresindo Mas Utama. PT. Gresindo Mas Utama merupakan perusahaan yang bergerak di bidang pengadaan suku cadang mesin-mesin industri terutama yang berkaitan dengan otomatisasi.
Kami sudah melayani bertahun-tahun dalam hal kebutuhan suku cadang mesin industri, berpengalaman dalam pengadaan spare part untuk industri otomatisasi. Perusahaan kami PT. Gresindo Mas Utama adalah perusahaan importir resmi yang mempunyai dokumen Angka Pengenal Impor dan dokumen Nomor Identitas Kepabeanan.
Suku cadang yang kami sediakan dari Agent THK Linear Bearing merupakan barang resmi dari pabrikan, kami memberikan jaminan dan garansi resmi dari perusahaan THK. Garansi resmi dengan syarat dan ketentuan berlaku. Jadi anda pelanggan yang ingin mencari suku cadang dengan jenis THK Linear Bearing tidak perlu diragukan lagi kualitasnya.
Produk THK Linear Bearing merupakan gabungan bagian dari gerakan bergulir linear yang praktis dalam mewujudkan pengembangan mesin berkecepatan tinggi, presisi tinggi, dengan masa pemakaian yang lama. Adapun model atau tipe dari produk THK LINEAR BEARING adalah :
* Caged Ball LM Guide (Linear Motion Guide) Models SPR/SPS
Models SPR/SPS realize super-low waving comparable to hydrostatic guides. In addition, the deformation of the ball is minimized to achieve ultra-high rigidity that surpasses even roller guides.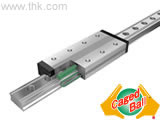 * Caged Ball LM Guide (Linear Motion Guide) Models SHS, SSR, SHW, SRS, SCR, EPF, SVR/SVS
Use of a ball cage eliminates friction between balls, and achieves low noise, acceptable running sound, long-term maintenance-free operation, and superbly high speed response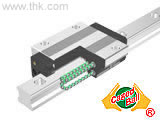 * Caged Ball LM Guide (Linear Motion Guide) Models SRG, SRN, SRW
A ultra high rigidity Roller Guide that achieves low friction, smooth motion and long-term maintenance-free operation by using a roller cage.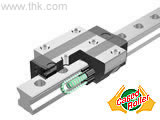 * Caged Ball LM Guide (Linear Motion Guide) Models HSR, SR, NR/NRS-X, HRW, SRS-G, RSR, HR, GSR, CSR, MX, JR, HCR, HMG, NSR-TBC, HSR-M1, SR-M1, RSR-M1, HSR-M2, HSR-M1VV, SR-MS
LM Guide(full-ball type) A series of types are available from miniature types to large types for machine tools, from linear guides to curved guides that suit a wide-range of applications.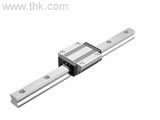 PT. Gresindo Mas Utama juga menyediakan pelayanan penjualan produk spare part dari brand lainnya seperti Twiflex Disc Caliper, Eaton Airflex, Vortex CNC Cooler, Hitachi Brake Motor, Sumitomo Cyclo Drive, Nisse GTR, Sae Jin Co Pump, Hengstler Rotary Encoder, Showa Giken Rotary Joint, Parker Taiyo Hydraulic, Hydac Filter, Suntes Hydraulic, Sanyo Denki, dan masih banyak lagi brand-brand lainnya.
Untuk pengadaan kebutuhan suku cadang mesin-mesin industri, hubungi kami :
PT GRESINDO MAS UTAMA
Jl. Kelapa Puan XXVI AK6 No.25
Gading Serpong 15810
Tangerang – BANTEN
Telp : 021 – 54221130
Fax : 021 – 5470915
Email : sales.gresindo@gmail.com
WA / HP : 0813 1961 6317 / 0812 981 99333
Ketepatan dan kecepatan dalam hal permintaan kebutuhan suku cadang anda menjadi prioritas kami.